Get Started With Pathways

Pathways is Toastmasters' education program. It helps you develop communication and leadership skills through a series of projects.

For an overview of Pathways, please click here.

Choosing a Path
Accessing Your Projects
Useful Links

Choosing a Path
To get started with Pathways, you will need to select one of the 11 pathway programs to work on. To do this:
Go to the Toastmasters International site. If your web browser has a pop-up blocker, please disable it for this site.
Click the Login link
If this is your first time logging in, click the Forgot Password link to get a password
If you already have your login info, enter your email and password
Click the Pathways menu link
Click Take the Assessment link
Click the Take Your Assessment link in the Base Camp section
Your first pathway program will be free. After that, each Path you work on will cost $20 USD
Select English in the Assessment Language field and click Start
Answer a series of questions in the assessment
Once you complete the assessment, a Path will be recommended for you. You can either choose that one or pick another Path.
To learn about other Paths, click the Pathways menu link and select the Learn More link. From there, you can learn about each Path and what projects are required for each one.
Once you are ready to choose a Path, go back to the Assessment page and click the Skip Assessment link. From there, you can choose your Path.
Watch the video below to learn how to choose a Path.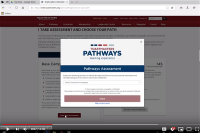 Accessing Your Projects
To access your projects:
Click the Pathways menu link
Click Go to Base Camp
Click Log In as a Member
Click My Education Transcipt
Find the Path you have chosen and click Open Curriculum
Find the project you are working on, such as the Ice Breaker, and click the Launch link next to it
A new window will appear and you will learn what you need to do to complete the project. When you are giving a speech, please print out the evaluation form and give it to your evaluator at the meeting to complete. With some projects, you will need to answer a series of questions before and after completing your projects.
Watch the video below to learn how to access your Pathway projects.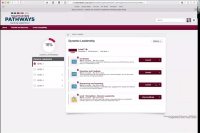 Useful Links

Pathways Learning Experience
Paths, Levels, & Projects
Achievement & Awards
Pathways Frequently Asked Questions (FAQ)
Pathways Resources